Fully Funded Solar Panels For Your Business
We help companies save money by generating their own electricity, without requiring them to invest any capital.
How we do it
We design, install, monitor, manage and maintain your Solar PV System for 20 years at no cost to you.
100% of the electricity generated from your Solar PV System is available for your company to use at heavily discounted rates, which are fixed for 20 years.
Capital-free and hassle-free
Our Solar PV Systems are supplied at no cost to you – no deposit, no finance agreement and no loans.
A typical system will take just days to install and can be completed with little disruption to your business.
Bottom line savings on energy costs
A typical installation will deliver savings of between £2,500 and £10,000 in year 1, and several hundred thousand pounds over the life of the system, but this could be even more with larger roof spaces.
As the Solar Power Purchase Agreement is protected against energy price rises, your savings will increase each year.
After 20 years, ownership of the Solar PV system is transferred to your company so you can enjoy 100% free Solar PV electricity for the remaining life of the equipment – usually another 15 years.
Call us today on 01245 227100 to discover how we can help your business >
How it works
We assess your roof and gather data from you about your usage and current electricity pricing
We make an offer to lease the air space above your your roof, allowing us to install our panels
We propose a Solar Power Purchase Tariff that gives you an instant saving on your bills
You agree to lease the air space above your roof to our partner funding company
We install the Solar PV system
You enjoy reduced electricity bills for 20 years with no maintenance costs and no concerns about the system
Ownership of the system transfers to you after 20 years to enjoy free electricity for the remaining life of the equipment
Commercial Solar Panels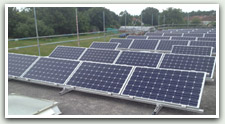 Reduce your business overheads and generate an additional income with a Solar PV system. Discover how much your company could save…
Solar Panel Maintenance
One of the main benefits of Solar PV Systems is that they do not require large amounts of maintenance over the lifetime of the equipment…
Case Study – Fully Funded Solar PV Installation for Camlab
Camlab contacted us to discuss a fully funded commercial Solar PV system.
At zero cost to them, this meant Camlab could:
Produce their own clean energy on site
Reduce their carbon footprint and building running costs
Insure themselves against increasing electricity costs
We brokered the arrangement between Camlab and the funding company who covered the entire cost of the installation.
The funding company, as the owners of the system, have entered into an agreement with Camlab to supply the generated power at hugely discounted rates and also fixed this low cost for 20 years.
A system composed of just over 570 solar panels was designed and installed. We worked together with Camlab staff to ensure the work took place with minimal disruption to their everyday business.
After installation was complete, we completed all the necessary registrations and paperwork for Camlab.
Camlab are delighted to be producing renewable, clean energy on site, thus reducing waste and costs, in addition to boosting their green credentials, all with no capital outlay, finance arrangements or loans.
To find out more, read our case study about the work we did for Camlab.
Call us today on 01245 227100 to discover how we can help your business >
Frequently Asked Questions
There is a legal charge on the property. Do I have to tell the bank and will they approve the installation?
Yes, you must consult with any lender who has a legal charge over the property before agreeing to install a Solar PV system, but in our experience, most lenders are becoming familiar with the installation of these systems and understand what is involved. We can deal with this on your behalf.
I am a landlord. Do I, or my tenant, benefit from the discounted electricity?
Either scenario is achievable. Landlords can re-charge tenants for the Solar electricity they use, or allow their tenants to take the full benefit. We can advise on a full range of options that are available.
What happens if we move or sell our property?
If you sell your property after installing a Solar PV system within the 20-year term, the lease of the roof space and the Solar Power Purchase Agreement are transferred to the new landlord and they are free to enjoy the benefits of the discounted green electricity generated.
What if we want to extend or develop our building?
If your development plans necessitate the temporary removal of the Solar PV system, we will agree with you a period of time during which you are free to undertake the work, on the basis that the Solar PV system is re-instated afterwards.
What happens if the system breaks down or develops a fault?
Our remote monitoring equipment will alert us to a fault immediately, and it is our funders' responsibility to resolve the problem under the terms of our 20-year maintenance contract. To minimise the risk of any such issues, we only specify and install high quality equipment supported by long term warranties and guarantees.
How will this system affect my insurance costs and cover?
Our funding partner insures the Solar PV equipment.
Call us today on 01245 227100 to discover how we can help your business >